Battle of Clontarf - Schools Creative Writing Competition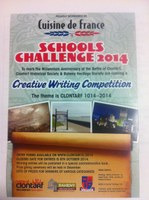 Raheny Heritage Society and Clontarf Historical Society are delighted to announce their Schools Challenge 2014 Creative Writing Competition. This is the final competition to mark the Millennium Anniversary of the Battle of Clontarf that the societies have been jointly running.  This competition will be for Primary Schools and Special Needs Schools in Clontarf, Raheny, invited schools in Dublin 3 and Dublin 5 and some invited schools from outside Dublin.
To date the societies have given out over €2,400 in prizes and have a further €1,200 prizes to give away for this competition.
Of course none of this would be possible without the support of our sponsor Cuisine de France, who is the number one supplier and manufacturer of freshly baked bread and confectionery in Ireland.
Raheny Heritage Society and Clontarf Historical Society will be working with Scholastic (We Are Writers!) to publish the winning entries in a special commemorative book and will be running a book fair in early December as part of the prize giving ceremony.
The closing date for the Creative Writing Competition is the 8th October and each school has until the 24th of October to submit the winning entries for final judging.