BT Young Scientist 2014
Congratulations to Paul Clarke, who is a student at St. Paul's College Raheny on winning this Years BT Young Scientist of the Year Award. This year is the 50th anniversary of the Young Scientist competition and the biggest yet and the judges said it was the highest standard to date. Paul's project on "Contributions to cyclic graph theory" really impressed the judges and is a major contribution to the world of mathematics. Congratulations to St Paul's College and teacher Dr. Brian Smyth. Congratulations also to Paul's proud parents. Paul's father Des is a member of the Raheny Heritage Society.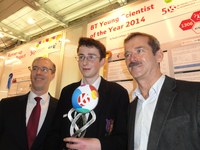 Paul Clarke with former astronaut Christ Hadfield (R) and Colm O'Neill (L) CEO of BT Ireland at BT Young Scientist yesterday.