Battle of Clontarf - Where it all ended!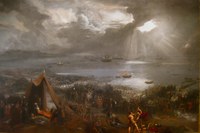 You need to book you tickets now for the upcoming half day seminar being organised jointly by the Raheny Heritage Society and the Clontarf Historical Society. On the 9th November 2013 three world class speakers will present on various topics from Viking kings and kingship to Irish kingships at the time of Clontarf 2014 and of course the Battle of Clontarf itself.  The speakers include Dr Clare Downham,  senior lecturer in the Institute of Irish Studies in the University of Liverpool, Charles Doherty, Senior Lecturer in UCD School of History & Archives and Dr Sean Duffy, Professor of Medieval History at Trinity College Dublin.  It promises to be a very interest morning in the wonderful Clasac, on the Alfie Byrne Road, Clontarf.  Hope to see you there!
Image  - Battle of Clontarf by Hugh Frazer 1826, courtesy of the Isaacs Arts Centre, Hawaii.